Our work with you is a venture of collaboration. Together, we'll go places.
The expertise and point of view we bring to every engagement is most powerful when it's integrated into the knowledge and outlook of our clients —and their audiences. 
This alchemy – our outside counsel, your inside perspective – yields communications that solve problems.
Here are a few clients with whom we've partnered to strengthen their strategic and tactical communications.
KING ABDULLAH UNIVERSITY OF SCIENCE AND TECHNOLOGY (KAUST)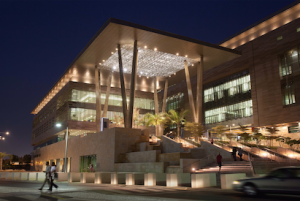 King Abdullah University of Science & Technology (KAUST) hired Cavelle Consulting Group to help a nascent university create a brand that gave it legitimacy with its peers and credibility with potential students and faculty from around the world.
KAUST's journey in its first five years was remarkable. Built out of the mangrove swamps in the Red Sea in roughly 1,000 days, it was an architectural and financial wonder. Second only to Harvard in endowment size, KAUST attracted considerable attention when it began its journey in 2009. 
After five quiet years of teaching, research, and operational enhancement, KAUST sought a larger profile in international higher education. Based in Saudi Arabia, the university had global aspirations.
Our work with KAUST began with an intensive market research and branding study. From that emerged a strategy and action items that:
created a new brand platform
changed the structure and the output of the Communications Division and
identified functional ways to drive KAUST messaging through internal and external communications. 
In addition, we grew KAUST's global media footprint through the creation of a Global Communications Team in the Office of the President. We also worked closely with the president to maximize his participation in conferences and other events around the world to continue to legitimize the university and maximize its potential to recruit outstanding faculty and students. Finally, we helped KAUST underscore the importance of global research collaborations on issues of import from Raleigh to Rio to Riyadh. 
During our work with KAUST, the university:
Moved from ~485 in 2013 to ~210 in 2017, according to Shanghai Academic Ranking or World Universities
Was rated #20 Best Global Research Universities in Asia
Ranked among the Times Higher Ed Top 20 Most Improved Universities in the world
Our work has contributed to KAUST's global impact.  Consider this Op-ed in the Arab news by Nam Pyo Suh, a member of KAUST's Board of Trustees of KAUST and a Professor Emeritus at MIT.
"There is no other university in the world that can be compared with KAUST. It has one of the largest endowments in the world, second only to Harvard University in the United States. It has assembled a world-class faculty, recruited highly qualified graduate students of both genders, and built state-of-the-art research facilities on the shore of the Red Sea. The publications by its faculty are superb both in quantity and quality. It has also built a strong collaborative relationship with many universities in the world, including KFUPM. It is a world-class research university that will affect higher education worldwide as it reaches full maturity."
LUCAS GROUP
As North America's premier executive search firm, Lucas Group turned to Cavelle to work across all media to realize their strategic objectives.  To attract the highest quality candidates and new clients, our engagement covered everything from a complete rebranding of their messaging and content to an aggressive social media program.  Additionally, we developed press content, video content, and provided continuous communications counsel.  Our goal continues to be to tell great stories that capture the extremely personal aspect of executive recruiting and reflects their highly personalized approach.
ATOS (formerly Siemens IT Solutions and Services)
Siemens IT Solutions and Services was purchased by Atos, and we worked on a project with them to enhance their market presence and translate their industry expertise to key audiences. 
Through white papers, video content, and email campaigns, we've highlighted their thought leadership in such areas as data center energy efficiency, SmartGrid leadership, and applications management. We've also helped them create more compelling content for their internal communications and do the same for Atos clients interested in better educating their end users on technological innovation. 
GEORGIA INSTITUTE OF TECHNOLOGY (Georgia Tech) 
As the leader of marketing and PR at Georgia Tech for more than a decade, Bob Harty led Tech's journey to create a more robust and global approach to helping the Institute become one of the leading research universities in the world. He helped position the Institute to achieve maximum Olympic exposure, took important steps to create an Institute-specific (not department-specific) approach to integrated marketing, and hired its first in-house market research analyst.
Bob completely restructured a siloed communications group and transformed it into an agency-based model, serving campus clients while enhancing the Georgia Tech brand nationally and internationally. From student recruitment to private philanthropic support Bob and his team consistently crafted quality content across all media that reflected Tech's unique ability to shape futures for generations to come.  
During his decade at Georgia Tech, the Institute was transformed from being perceived as a regional commuter school to becoming one of the world's most highly respected research universities. In each year of Bob's tenure at Tech, the Institute set records for application volume and enrollment quality, rose in global rankings, shattered previous fundraising records, gained membership in the AAU, and increased its presence in local and national media.
PINN
PINN is a bleeding-edge cybersecurity firm that is revolutionizing digital security. Founded by a trio of late 20-somethings, they early on their journey to introduce dynamic new products to help financial institutions, government security forces, Forbes 100 companies, and a host of other firms secure their data from government and private espionage. 
PINN approached our partner, Versal Creative, to help develop the company's brand, one they are now using as they make presentations around the globe to tout a new product that essentially eliminates passwords from data access.
Through market research, competitive analysis, and deep research into cybersecurity, we developed a new PINN brand that reflects corporate messaging, visual cues, and presentation outlines. It accurately captures PINN's marketplace distinction, and the messaging platform sets an authentic and "non-salesy" tone that their senior leadership and sales, and marketing team use in business development efforts. 
LIPMAN HEARNE
Bob Harty serves as Senior Counsel to Lipman Hearne, North America's largest marketing communications firm dedicated to the non-profit sector.
Focused on the higher education market, he has worked with Lipman Hearne at many of America's leading public and private universities to help them craft marketing strategies, conduct market research, launch new initiatives, create a strong social media presence, attract higher quality students, and engage with alumni and friends to help them achieve financial success.
Bob's work with Lipman Hearne focused on strategic counsel to senior leadership, market research, brand enhancement, and media relations. Among the clients he worked with are:
University of South Carolina
Northern Arizona University
Oregon State University
University of Miami
University of Washington
HAILIDE AMERICA, INC.
Hailide America delivers high-quality polyester industrial yarns and tire cord in a highly customized and reliable fashion by serving as a dependable link in the international supply chain. We worked with them to enhance their high-quality brand, expand their client base, redesign their web presence, create a social media presence, and provide ongoing marketing communications counsel.
DEKALB COUNTY BOARD OF HEALTH
We're bringing our market research and writing expertise to help the DeKalb County Board of Health develop their federally-mandated Community Health Improvement Plan (CHIP).  Thus far, we've conducted a series of focus groups with randomly-selected participants across a wide section of Georgia's fourth most populous county. 
In the focus groups, we discussed a wide range of healthcare topics with a broad cross-section of the public. We quizzed them about their awareness of the country's services, their assessment of those services, lifestyle issues that impact health, refugee access to healthcare, public education, and personal health matters. We then summarized the feedback as a foundation for shaping the Board of Health's strategy. 
We will then take those data, the content developed by County staff, historical data from previous surveys, and help the County write its 2018 Community Health Improvement Plan. 
iLUMEN  
iLumen is a leader in customized business intelligence solutions making it easy for businesses to turn complex financial and marketplace data into valuable, customized information for their customers in the accounting, banking, and franchise industries. 
We worked with iLumen to help create a marketable brand by easily translating their extremely sophisticated software into understandable impact.  In addition, we helped fashion a marketing strategy, increase their partner outreach, improve the quality of media materials, and continue their nascent efforts in social media.
XL GROUP
XL Caitlin specializes in property and casualty insurance and reinsurance across a wide spectrum of business in more than 100 countries. We worked with XL IT group to create a more effective and accessible internal communications strategy and execute that strategy over multiple years. 
Our goal was to provide compelling and user-friendly content that didn't merely alert people to problems but educated and informed them about them about important trends, opportunities, and innovations in technology that enabled them to excel in a highly competitive environment.  Our work ranged from developing market research survey questions and analyzing colleague feedback to generating short stories for their e-Newsletter, to developing urgent email communication for urgent IT issues.
SURGICAL INFORMATION SYSTEMS (SIS)
SIS provides software solutions that are developed specifically for the complex surgical environment and integrate easily with other hospital systems, a critical concept in today's health care environment.
We worked with SIS on several initiatives designed to increase their visibility in the hospital marketplace by drawing attention to their award-winning technology. We also worked with them to enhance the quality and consistency of their external content by creating policies and templates for their PR and marketing activities.
COLUMBUS STATE UNIVERSITY
Columbus State University is one of the rising stars in Georgia higher education. We began working with CSU shortly after a dynamic new president took the helm and we helped translate his energy and insight into a new brand that better fit the University's culture. We worked with CSU to help lay the marketing and PR foundation that currently exists, and we have continued to serve as a resource in moving Columbus State University forward to meet its strategic objectives. 
TRINITY UNIVERSITY
Located in beautiful San Antonio, TX, Trinity University is a one of the nation's finest private liberal arts universities. We came to Trinity to help them better tie their marketing communications organization to the Office of the President and his new strategic plan. 
Drawing upon our experience in higher education and organizational alignment, we conducted extensive interviews with internal audiences to determine what they needed from central marketing and elicit their ideas on how to improve service delivery without significant additional resources. We produced an organizational assessment that helped outstanding marketing leadership better align their outputs with the University's strategic priorities.